THE GREAT CULLING – OUR WATER
There is a large granite monument in Elbert County, Georgia, known as the Georgia Guide-stones. Who paid for it is a mystery. Inscribed on it are ten commandments, written in twelve languages, for what it describes as an Age of Reason. Many believe it is an agenda for the New World Order. The first commandment is: "Maintain human-ity under 500 million in perpetual balance with nature." Since the world population now stands at over seven billion, that means the commandment calls for the elimination of 93% of the world's population. It already has begun. (More)



A NOBLE LIE
Oklahoma City 1995
Plato explained in his Republic that a noble lie is a myth or untruth told by an elite to maintain social harmony. After viewing this documentary, you will understand that the official story of what happened in 1995 to the Murrah Building in Oklahoma City is a noble lie of the highest order. The reason for this crime was to create a public backlash against those who are critical of government policies, thus silencing them for fear of being labeled as domestic terrorists. Here are the facts that support that conclusion. (More)



WHY IN THE WORLD ARE THEY SPRAYING? Geo-engineering and Weather Control.
Why are we being sprayed? Answers: (1) Metallic nano- particles in the stratosphere make it possible to control the weather, which is a military priority for many countries. (2) Weather Derivatives are traded on the Chicago Mercantile Exchange as insurance against loss of crops due to bad weather. If you can covertly control the weather, you can make a fortune by always being right. Your friends who still think that chemtrails are just water vapor will be stunned by the revelations in this program. DVD. (More)






WORLD WITHOUT CANCER
The Story of Vitamin B17

G. Edward Griffin
marshals evidence that cancer is a deficiency disease, like scurvy or pellagra, caused by the lack of an essential food factor in modern man's diet. That substance is vitamin B17, also known as Laetrile. This story is not approved by orthodox medicine. The FDA, the AMA, and The American Cancer Society have labeled it fraud and quackery. Yet the evidence is clear that here is the answer to the cancer riddle. Why has orthodox rejected this non drug approach? The author contends that the answer is to be found, not in science, but in politics – based upon the economic and power agenda of those who dominate the medical establishment. Sale now in progress. (More)


LAETRILE CASE HISTORIES
The Richardson Cancer Clinic
Experience, by J.A. Richardson, M.D. & Patricia Griffin, R.N. 62 case histories proving beyond any doubt that Laetrile (Vitamin B17) works in the control of cancer. These are not anecdotal stories or people who never had cancer in the first place. Each history is authenticated by a firm diagnosis and meticulous medical documentation. Includes a follow up 30 years after patients were diagnosed as "incurable," Proof is in the life-span of these people who, previously, had been told by their doctors that they had just a few months or weeks to live. (More)






WHO'S WHO OF THE ELITE V. 9

Membership lists for Bilderbergs, CFR, Skull & Bones, and The Trilateral Commis-sion. People speak of the "ruling elite" but seldom mention names. Well, here they are. Drawing from membership lists of the world's most powerful and, in some cases, secret organizations, the names emerge in alphabetical order and cross-indexed by affiliation. Descriptions of each organization are included. Version 9 has been updated to include the most current information available. It would take years of research to duplicate this amazing compendium.. (More)


SILENT CLOTS; LIFE'S BIGGEST KILLERS by James Privitera, M.D.

This is the story of a diagnostic tool called the Dark-field Microscope and how it is used to detect the early stages of blood clotting that, if untreated, can develop into poor circulation, heart attack, or stroke. It also shows what you can do about eliminating those clots without expensive drugs with dangerous side effects. $15. Order directly from the author by calling, toll-free: 1-888--220-7888.



DEAD WRONG
How Psychiatric Drugs Can Kill Your Child. This is the story of one mother's quest to find out why her happy, outgoing son committed suicide shortly after being placed on psychiatric drugs. She discovered that suicidal and homicidal impulses are well-known side effects of these drugs, yet psychiatrists claim they are safe. Once you hear what health experts, drug counselors, and doctors say, you will conclude that psychiatrists are dead wrong. DVD (More)


THE SECOND DALLAS; WHO KILLED RFK?
This documentary challenges the official version of Robert Kennedy's assassination. 11
bullets were found that supposedly came from Sirhan Sirhan's 8-bullet gun. The coroner found powder burns on RFK's ear next to the fatal shot in the back of his head and testified that the gun had to be only 2 or 3 inches away for that effect, but that Sirhan fired his pistol in front of RFK and was 3 to 6 feet away. An expert on hypnotism, after hypnotizing Sirhan in prison, said he could have been programmed under hypnotism prior to the assassination? Astounding facts withheld from the jury, blatant forgeries, and destroyed evidence on the part of authorities add up to a world-class cover-up. (More)


THE CREATURE FROM JEKYLL ISLAND; A SECOND LOOK AT THE FEDERAL RESERVE by

G. Edward Griffin
This is the classic exposé of the Fed that has become one of the best-selling books in its category of all time. This new 5th Edition includes a no-holds barred analysis of bank bailouts under the Bush and Obama Administrations that are shown to be nothing less than legalized plunder of the American people. Many other updates have been added, including a revision to the list of those who attended the historic meeting at Jekyll Island where the Federal Reserve was created. (More)



CANCER; THE FORBIDDEN CURES
Cancer is the only disease that has been defeated dozens of times without anyone knowing it. In the last 100 years, dozens of doctors, scientists, and researchers have developed diverse and effective solutions against cancer only to be thwarted by the political and propaganda power of the drug-dominated medical profession. This is the story of Essiac, Hoxsey, Laetrile, Shark Cartilage, Mistletoe, and Bicarbonate of Soda all put together in a stunning overview that leaves no doubt that inexpensive cures for cancer do exist but are systematically blocked by Big Pharma because they come from nature and cannot be patented. (More)


PROJECT RED PILL

The Matrix is one of the most talked about movies of recent time and is perceived by many as a metaphor of real life. Project Red Pill will rescue our fellow humans from the Matrix, allowing them to choose reality over delusion. The first step is to create a flow of information independent of mainstream media. Most people in the Matrix are wired up to television, so video is where we must start. (More)



REMOVE CHLORINE FROM YOUR SHOWER
It is common for health-conscious families to install chlorine-removal filters in their kitchens, but it has been estimated that we absorb more chlorine through our skin when taking a bath than we ever could from drinking water. That is because the body's skin surface is larger than the intestinal surface and because the lungs, too, are very efficient absorbers, and we inhale a substantial amount of chlorine gas while bathing. Benefits of de-chlorinated water are reduced exposure to toxic chlorine, healthier, younger looking skin; softer, more manageable hair; less fading of color-treated hair; relief from dry skin and scalp; and better lathering. Removes 90% or more of chlorine. (More)






GLOBAL WARMING
AND GLOBAL FEUDALISM
A discourse by G. Edward Griffin

Without notes or preparation, Griffin fields questions about the United Nations, global warming, and how these topics are tied together. Here are some of the issues covered:
Is the UN our last best hope for peace or the foundation for global feudalism? Is the UN controlled by leaders of nations or by hidden structures and power brokers? If the latter, who are they? Are American elitists motivated by love of country, desire for international harmony, or something less admirable? Is it possible to get out of the UN, or have we passed the point of no return? With regard to global warming, what is Agenda 21? Is forced population-control justified to save the planet? Is the UN's report on global warming based on valid science? If not, then what? If the mission of the World Health Organization is not world health, then what? What are the IMF and World Bank and why should anyone care about them? What is the Freedom Force strategy for reversing the trend toward global feudalism? (More)


OVER-THE-COUNTER NATURAL CURES by "The People's Chemist", Shane
Ellison, M.S. A former chemist for Big Pharma tells how drugs are highly toxic and, in many cases, cause greater illness than they alleviate. But the nutritional supplements sold in health-food stores also are manufactured by pharmaceutical companies and are not the "natural" products we assume they are. Synthetic vitamins may be chemically similar to those in nature but they are devoid of the co-factors found in the natural state, and that means that vitamins in a pill are far less effective than in foods and herbs. This led Ellison to examine thousands of natural sources, to identify those that are loaded with complete nutrition. In the process, he found some that can produce astounding reversals of such chronic diseases as obesity, diabetes, heart disease, and even cancer – all for under $10 for a 30-day supply. This book could save you thousands of dollars and may even save your life. (More)


THE NEW AMERICAN CENTURY
The Secret Plan for World Domination. This documentary provides
the missing link for the truth about 9/11. The missing link is MOTIVE. If you cannot imagine why anyone would want to cover up essential evidence, then wonder no more. Taken from the words of the plotters themselves, you will come to understand that a terrorist attack was exactly what they hoped for to justify a massive military incursion into the Middle East, all of which was planned long before 9/11. You will witness decades of maneuvering for the control of oil and gas resources and see, first hand, incredible war profits on a scale much greater than ever before in history. Even if you are familiar with some of these events, this is the first time all of them have been brought together in one place. (More)


S&P 500, 5 yrs. Click for price.



GOLD, 5 yrs. Click for price.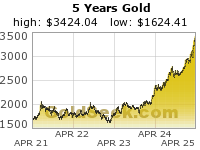 SILVER, 5 yrs. Click for price.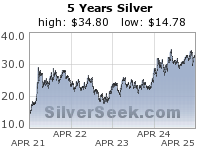 THE FEDERAL RESERVE
A Discourse by G. Edward Griffin

The author of The Creature from Jekyll Island; A Second Look at the Federal Reserve addresses such issues as: Who created the Fed? How is money created?
What impact has this had on the American Dollar? Should our currency be backed by gold or silver? Where does government get most of its funding? Why do bankers get away with it? What might happen if we continue on our current path? What might come from a return to constitutional money? (More)

Clicking on any of the
following categories
will take you to the

Whole Catalog
An alphabetical listing and brief description of all items in our catalog.


Newest Arrivals
New items from all categories, of special interest to returning customers.


Freedom Issues
Books and recordings on the war against freedom, privacy, and sovereignty.



Health Issues
Books and recordings on medical fraud & natural health (without drugs).


Money & Banking
How to protect yourself from the economic & political power of corrupt banks.


General Interest
Books and recordings on many other interesting topics.


Best Sellers
from all categories are listed here in the order of popularity.


Audio Archives
Dynamic CDs on freedom, monetary, and health issues, and true-life adventures.



Sales & Closeouts
Rock-bottom prices and special offers.